Ask a Dealer: Private-Label Products
Words & Interview by Peter Koch
As consumer-direct sales models and internet discounters continue to ramp up price pressure on IBDs, more and more are turning to private-label products (PLP)—sourced directly from manufacturers—in an effort to cut out the middleman and improve margins. Greenville, South Carolina's Pedal Chic (which we profiled in the Sept/Oct 2016 issue) is one of the latest to make the move, capitalizing on its strong brand identity. We spoke to owner Robin Bylenga about her experience with private-label product.
When did you start selling PLP, and what made you decide to invest more heavily in it? We've been fortunate to have had many articles written about our shop nationally that have helped elevate our brand, both locally and abroad. Customers wanted our logo on the products they purchased, so we began researching the availability of more products.
Also, when margins were dropping and customers would showroom, it was evident we needed to have a new strategy to compete with mainline products.
We've been selling the "typical" t-shirts, water bottles and other small stuff for a while, but I decided to "go big" about 16 months ago. It's simple to put a label on mass products, but much more challenging to understand your customer base, find products to fit their needs, and then brand accordingly.
A lot of shops get apparel—socks, Ts, cycling kits—and water bottles made up with their logos on them. How is PLP different from that? PLP is branding EVERYTHING. As we delve deeper into private label, we are getting beyond simply putting our label on predesigned product and designing our own true to brand, and thereby meeting our customers' needs and expectations.
What private-label products are you selling? Currently we private label the following:
• A line of six bicycles
• Apparel, including cycling kits, t-shirts, two types of socks, jackets, activewear tops, leggings, cycling gloves and headbands
• Pedal Chic ballcaps, visors and other fun hat styles
• Saddle bags, triathlon bags, triathlon phone bags, larger bags branded for rental bike excursions and tours, and panniers
• Water bottle cages, water bottles, multi-tools, tire levers and phone holders
We are in the process of designing many more accessories and apparel items, too.
How do they sell, in comparison to their non-branded counterparts? Our Pedal Chic branded product far outsells other brands in-store. We get much better margins, as well, which is a major plus in the current state of our industry.
Private-label bikes are much less common than apparel and accessories. How successful/profitable have the bikes been, at least when compared against apparel and accessories? As Spring has arrived, our sales have exceeded expectations, and the response from other IBDs carrying our brand has been nothing short of breathtaking. Our first IBD—Lancaster Velo in Lancaster, PA—sold through his first order in days, and he couldn't be more pleased by the reaction, quality and, most importantly, the Pedal Chic story. Moving forward in retail is about experience and being a part of a bigger community, which is what Pedal Chic has created.
Over the years, I've studied the barriers of entry to encourage women to begin biking. One barrier is the beginning price point of bikes. Our initial line of Pedal Chic bikes are designed for quality at an affordable entry price. This is infinitely better than having a customer purchase an ill-fitting used bike.
We have gotten amazing responses from our PL bike brand. We purposefully designed/manufactured with quality and profitability in mind, and are poised to wholesale with excellent margins to the IBD.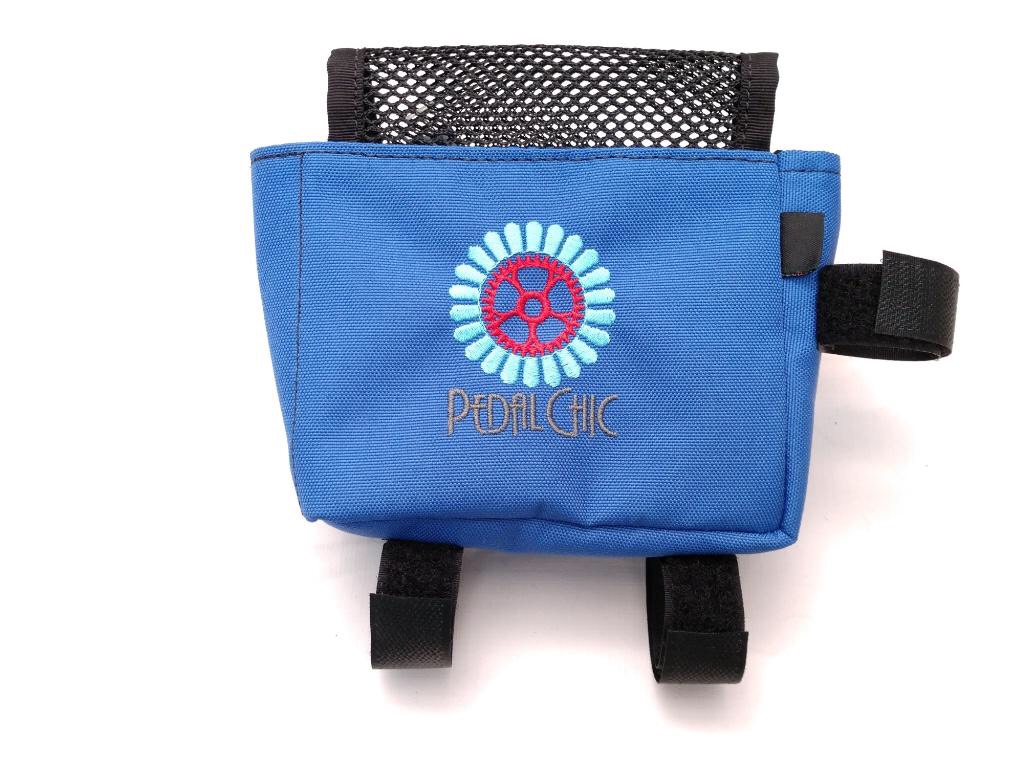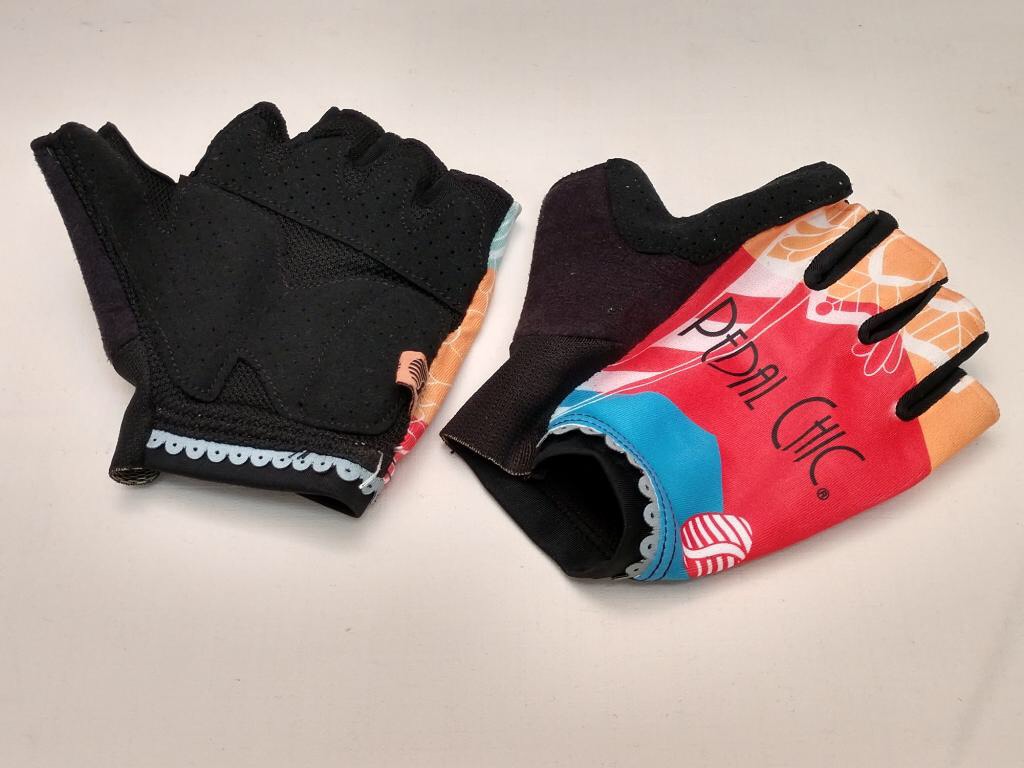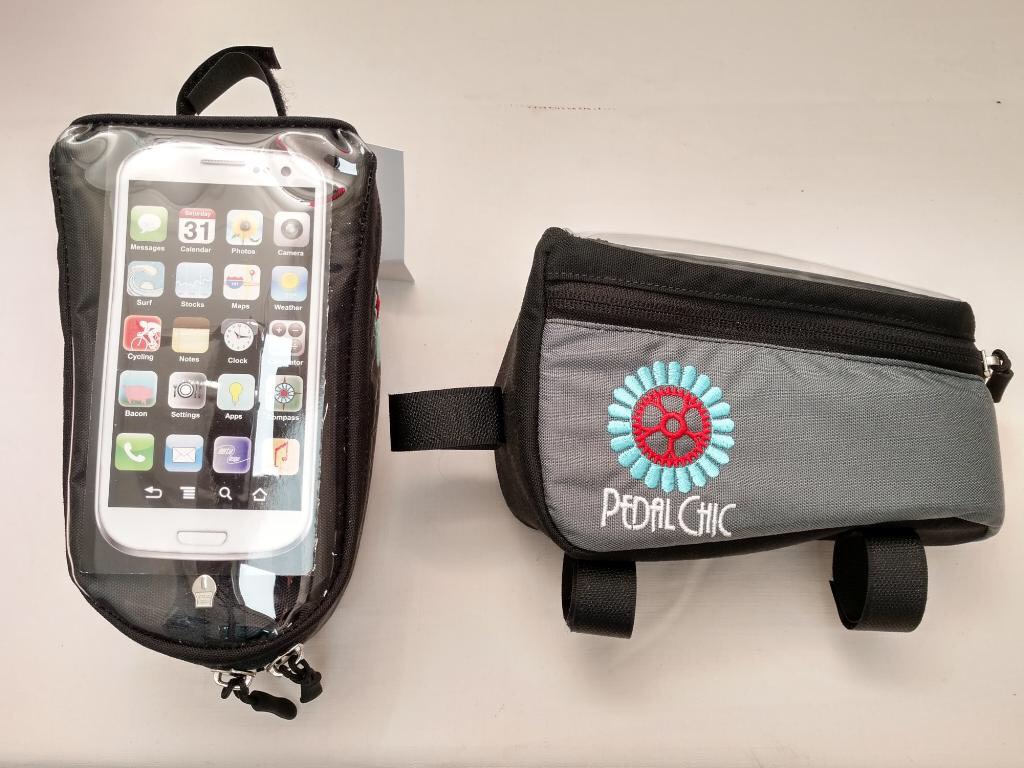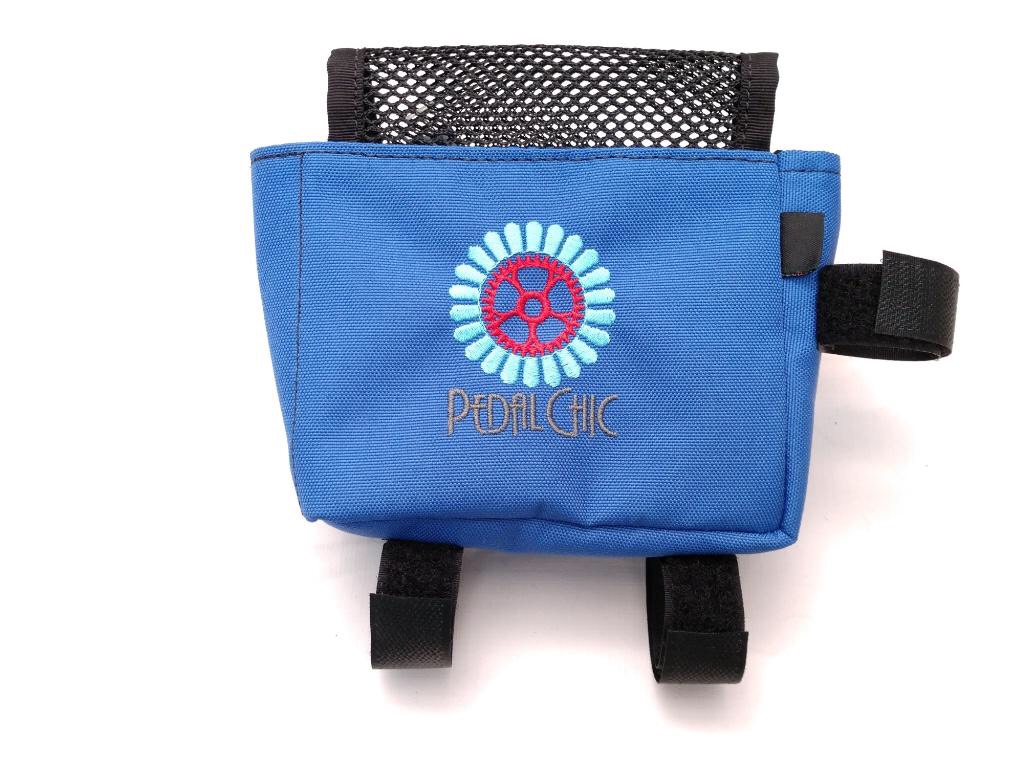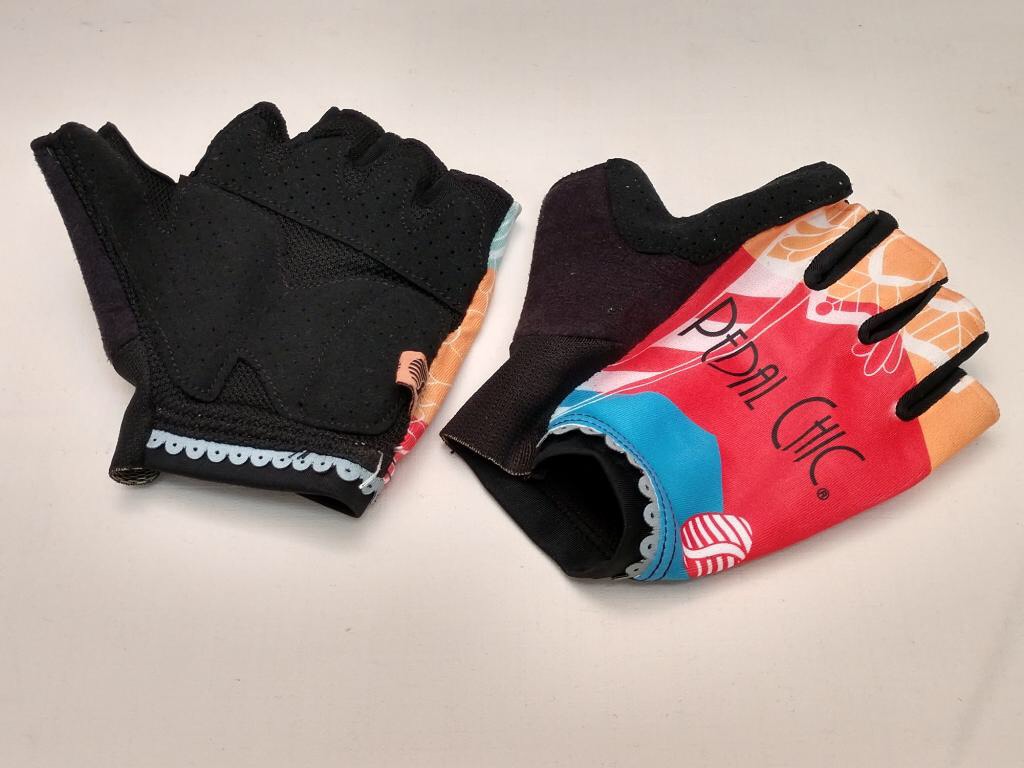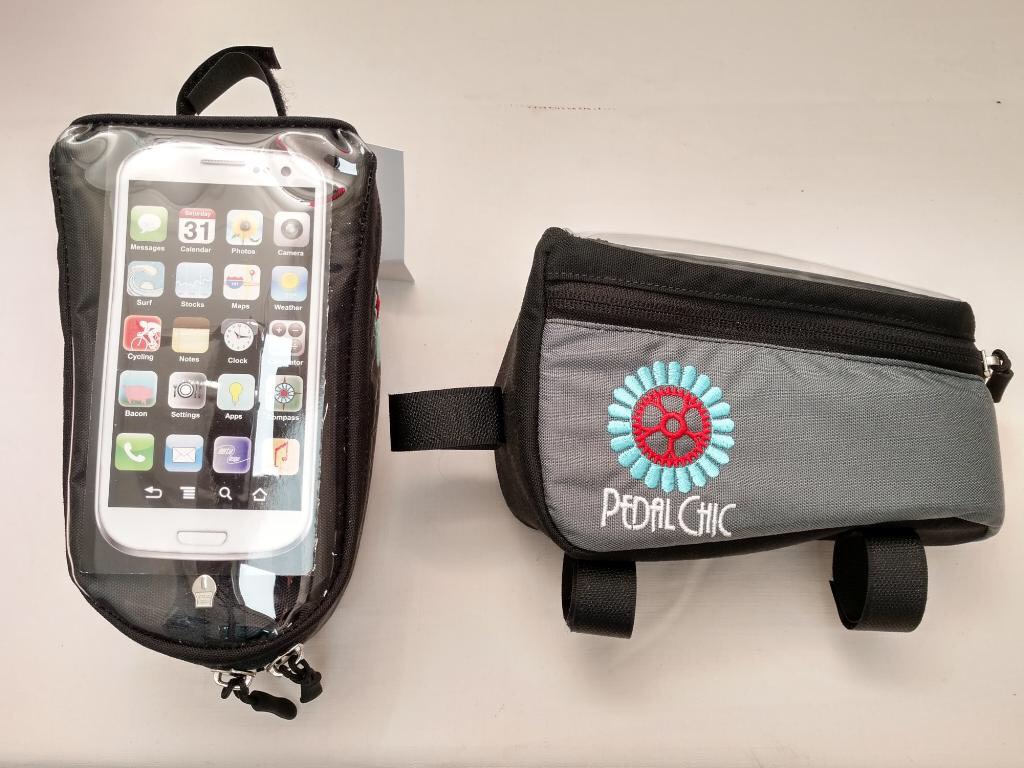 How did you go about finding manufacturers to work with? Over the years, I've conducted research to find companies that would private label. Many are available for branded cycling kits, and we have worked with a few over the years. It was more challenging finding quality accessories manufacturers that had reasonable minimums, but building relationships with vendors over the years has helped us find the right partnerships.
At Interbike, I took time to meet with manufacturers, and that helped tremendously to build personal relationships.
What was the design process like? How involved were you? The design process for apparel can be fun, but it can also be tedious, especially on top of all my other duties as an owner. Many manufacturers have graphic designers in-house, which is a plus, but it can be challenging to get a creative vision across. Once I find a designer that understands the desired outcome, the process becomes much easier. I'm staying personally involved, at this point, in all our designs. As our team grows, though, we hope to have our own in-house graphics, so that all of our products stay true to brand. We have worked hard over the years to refine and perfect our brand story, and all the products we create and select need to reflect that. We still have a long way to go, but we've also come a long way.
Designing the bikes was much more challenging. As a women's-specific brand, we have a grasp on what women want, from both a performance and visual standpoint, but we still conducted research on color trends in the fashion world and the market trends for our demographic. We also had to take care in the naming of each bike to ensure originality. Our mission is to transform the lives of women and their families by bike. We took the word "transform" and found synonyms for each individual bike—with the exception of our beach cruiser, the Coral Crush.
What are the biggest benefits to stocking and selling branded merchandise? The biggest benefit is being able to provide products that allow healthy margins, so we can be successful. Also, having a PLP that is unique and has a story is compelling to our customers. We don't want to be a discounter, but rather offer an experience to our customers that includes sharing our transformation story, as well as those stories of our customers. We work toward building community, and our national reach is reflective of how our brand has been embraced.
What are some of the biggest drawbacks? By far, minimums and long lead times for production are challenging. When larger minimums are required and large deposits, cash flow issues come into play. So making sure you have the funds set aside in January for a March delivery can sting a bit in this seasonal industry. It requires a lot of planning.
There are some manufacturers we would love to work with, but their minimum expectations are simply not practical.
Do you think there's a particular customer that responds better to PLP than others? Interesting question. Just like we should never assess what a customer is willing to spend when entering a bike shop, the same is true for the PLP customer. Example: We just relocated our store and the new vibe is changing/growing our customer base. As our brand recognition grows, so is the number of those who wish to support us by wearing our logo. For our Grand Opening event, I printed several designs of t-shirts, and left our logo off the men's designs. In the end, though, we ended up taking many back to the printer for male customers who love supporting our shop.
There will always be those customers looking for the best deal. With PLP, we don't have to compete with discounters, which is refreshing. The customer demographic is drawn to the experience, the brand image and the story behind the brand.
Do you have any hard-won advice you'd offer to a dealer considering PLP? Always get samples prior to purchasing large quantities. And, especially with larger projects, put together a project management spreadsheet. This helps keep everyone accountable, the timeline updated, all changes notated/signed off on, and is extremely helpful in eliminating miscommunication.
Ask a Dealer is an updated twist on the old Dealer to Dealer (which may still return from time to time). Rather than excerpt conversations already happening on the NBDA Dealer Forum, we're asking dealers with real-world, specific experience to talk about their experiences with some of the pressing issues facing our businesses and, moreover, our industry. To Ask a Dealer a question about your business, email us here.