Shop Profile: In Too Deep
Nearly a year after Hurricane Harvey flooded Houston, Planetary Cycles is finally recovering
Words by Peter Koch
When they first heard the news late last August—a massive, Category 4 hurricane was bearing down on the Houston metro area—Adam Potter and his business partner, Danny Savitzky, didn't panic. "We'd been through [hurricanes] where everybody panicked, everybody thought it would be the end of the world," Potter says, but "we never even had water on our curb, so we assumed it would be fine." In those instances, while localized floodwaters had submerged other neighborhoods and even threatened their own homes, their 23-year-old bike shop, Planetary Cycles, had always remained high and dry.
But Hurricane Harvey proved an exception to the rule. The powerful storm system stalled over Houston and, over the course of two days, dropped Biblical proportions—nearly sixfeet, in total—of rainfall on the Meyerland neighborhood of Houston, inundating tens of thousands of homes and flooding their 9,000-square-foot shop with 18 inches of muddy water. Nine months later, the physical damage has been fixed and the lost inventory paid for and replaced, but Planetary Cycles is still a long way from full recovery. With its surrounds still devastated and much of its customer base financially crippled, the shop has lost hundreds of thousands of dollars of business since Harvey blew in.
Despite all that, Potter remains optimistic about the future. When the going got tough, Planetary Cycles rose above the post-Harvey muck, performing deeply discounted service on its hard-hit customers' flood-ravaged bikes, even as it slashed inventory and Potter sometimes skipped paychecks. Beyond just proving their mettle, the owners proved their business savvy, earning themselves a more-loyal-than-ever following and setting themselves up for a miraculous turnaround. Provided, that is, that there's not another storm.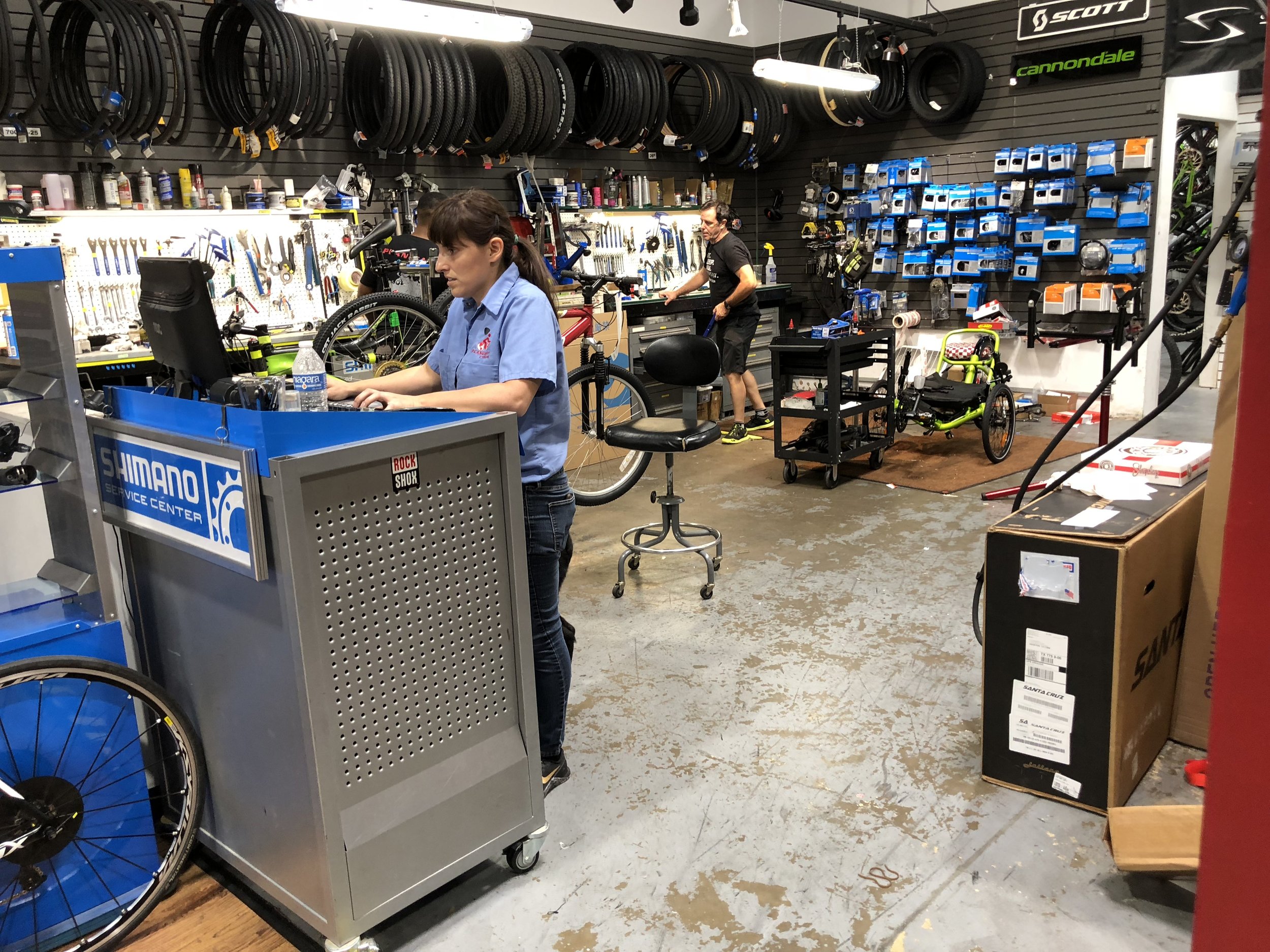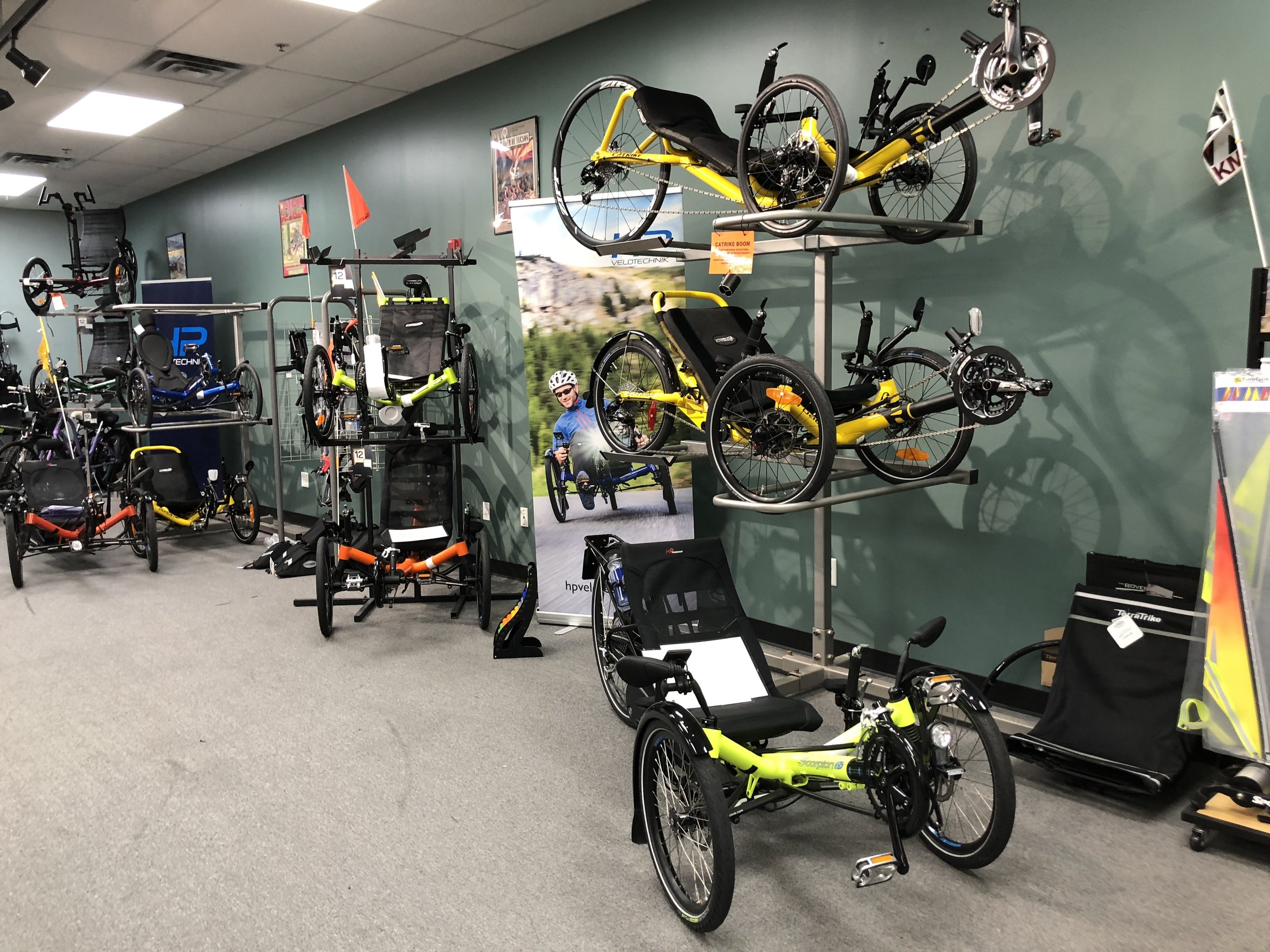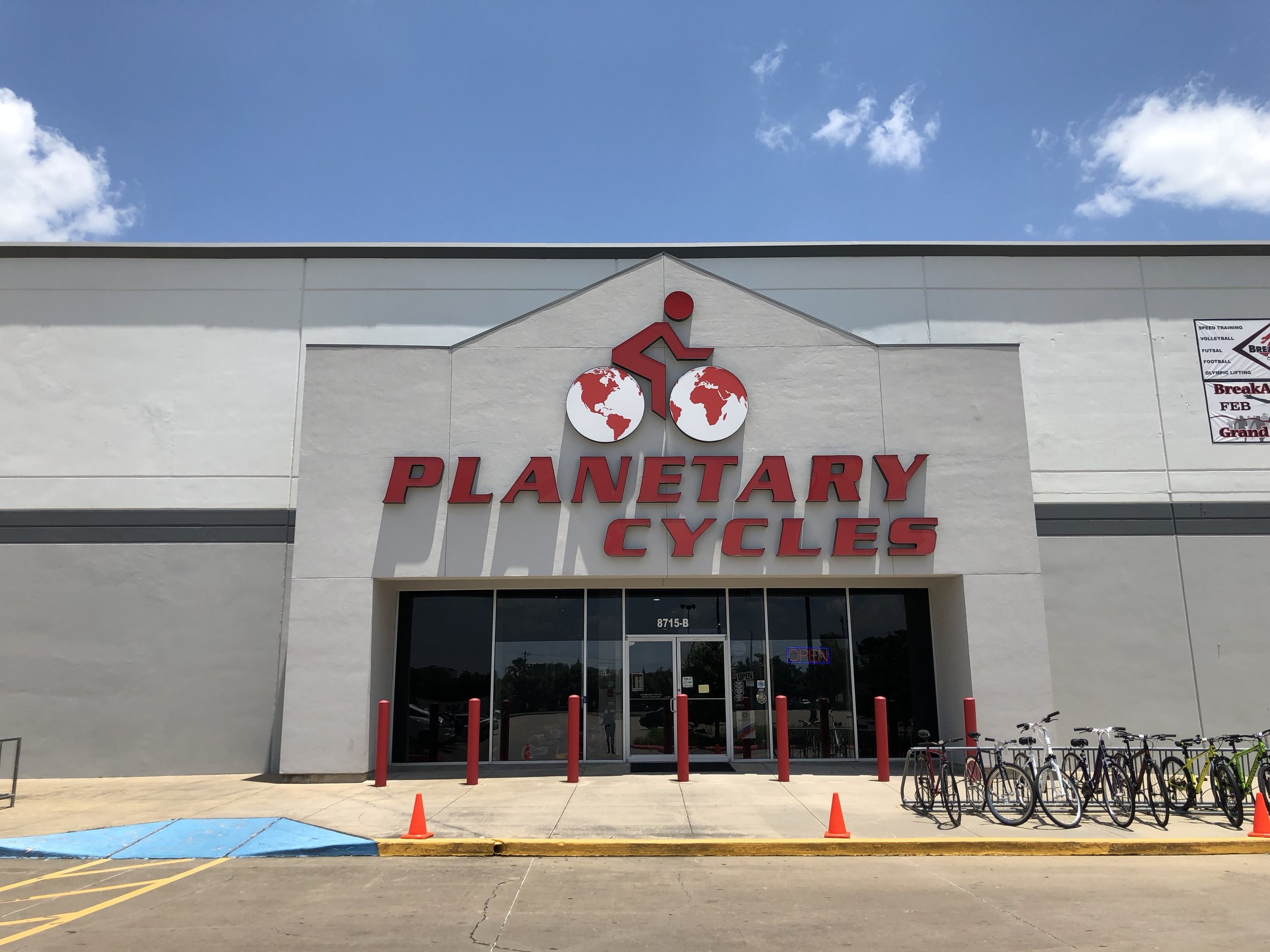 A Soggy Start
Friends since their early teens, Potter and Savitzky turned an early interest in human-powered transportation into a shared passion for recumbent bikes and trikes. "Before we even turned 18," Potter says, "we built our own trike with steel that we could source locally." After school, they went to work for other people until, in 1994, they decided to open their own shop that would sell all kinds of bicycles, but would specialize in recumbents. "We started out in the two-wheel business, and even went into manufacturing our own line of two-wheels that were made in Taiwan."
Even in those early days, though, Planetary Cycles got off to an inauspicious start that would, in some ways, foreshadow the havoc wreaked by Hurricane Harvey. The very first version of the shop—a "little bitty" 1,100-square-foot location about a mile down the road from where it currently stands—was set to open in October of 1994, but the remnant rains from Pacific Hurricane Rosa turned the store into an island before it could even open its doors. "We got maybe a little drip of water [inside]," recalls Potter, "but it was nothing a Shop-Vac couldn't handle." They didn't have significant damage, but they did have to delay opening for a few days while the surrounds dried out. Once they were finally underway, business was swift. Planetary carved out a niche as recumbent specialists, and that portion of sales now accounts for 15-20% of their total dollars. After 18 months, they moved down the block into a shuttered Payless Shoe Source that was 3,000 square feet. Business continued to roll for the next 16 years in that location and—because it was elevated three feet above the surrounding ground level—the shop stayed high and dry through some pretty hairy flooding, including the devastation left by Hurricane Ike in 2008.
In 2012, Planetary's landlord announced plans to move a Wells Fargo from next door into their corner location, prompting Potter and Savitzky to do a little soul searching. "We figured that we needed to either expand or shut down," says Potter. "It was move up in the world, or get out of the bike business altogether." When they found a much bigger, 9,000-square-foot location about a mile down the street, they managed to negotiate a favorable lease rate and decided to make the leap. "It was a phenomenally good move for us. At the time, the road market was still really strong, and mountain bikes were doing well. Everything seemed to sell fairly quickly and fairly well."
When It Rains, It Pours
Houston floods—a lot. The "Bayou City" sits on a spectacularly flat coastal plain, and when it rains—which it does often, to the tune of 49.8 inches per year—the rain collects and moves very slowly east-southeast, downhill via a vast network of lazy bayous that empty into the nearby Gulf of Mexico. When there's too much rain, rather than turn into raging rivers or aggressively "jump" their banks, those bayous seem to stretch themselves out, languid and nonchalant as a cat, until they're wide enough to flow across entire neighborhoods.
In 23 years of business, Planetary Cycles has always been close to—but remained out of reach of—Brays Bayou, one of the biggest tributaries to downtown's Buffalo Bayou. At the old store, someone with a Nolan Ryan arm could throw a rock from the back door and hit the water. Still, it stayed dry through Allison and Ike and a dozen other named storms, tropical depressions and hurricanes. That history argued against buying flood insurance, even though the current location lies just a quarter-mile north of Brays. Two other flood events struck their corner of town in the three years prior to Harvey, and still they'd never even had water on their curb.
So Potter and Savitzky thought little of it last August when news came that a Category 4 hurricane was grinding its way across the Gulf towards Houston. They closed the shop the day before the storm made landfall, so employees would have a chance to get home safely. "Everybody went home, and waited to see the worst happen," Potter recalls. Harvey rolled into the Houston area on August 26th, bringing thunderstorms and tornadoes that caused severe damage in some areas of the city. But rather than continue on its way northwest, the storm stalled over the city for all of the 27th—its path blocked by a massive high-pressure system in the western U.S. and a low-pressure system to the east—and dropped record-breaking rains over the entire region. By the morning of the 28th, the U.S. Army Corps of Engineers began releasing water from the city's two major flood-control reservoirs, which were in danger of breaching. By the 29th, water was spilling over their tops, anyway. Potter lives pretty far from the business, but could see on the news that the area around the store was hit badly. "There were pictures of people driving speedboats through the intersections near our shop, and the 7-foot-tall "STOP" signs were barely above water, so it wasn't looking good." The water had receded by the time he was able to reach the shop on the fourth day, and Savitzky and their store manager had already begun pumping and vacuuming water out.
Drying Out, and Doing the Right Thing
"It was hard to look at," Potter recalls. While most of the inventory lay above the 18-inch high water mark, there were some things that had floated all the way from the front of the store to the back. Some shoes were destroyed, some clothing, and some of the back stock—in total, somewhere between $50K and $100K worth of goods. Some boxed bikes were also partially submerged, and had to be fully disassembled, decontaminated, degreased, repacked and reassembled. "That was weeks of work that we never would've otherwise had to do."
Fortunately, their landlord was quick to respond, and building repairs—which Potter estimates at more than $100K—began within two weeks. "We were closed for about 2.5 weeks," he says, "but we couldn't afford to be closed any longer, so we opened our doors and did our best to serve our customers in the condition we were in." Every piece of flooring and sheetrock below three feet had to be removed and replaced. The work was done in stages to allow business to continue, so the Planetary Cycles staff was constantly reshuffling inventory from one wall to the next. "It was a crazy amount of work," Potter adds, "and I have to give my staff credit for sticking with us through it. It was a really hard undertaking, just a nightmare."
Through that nightmare, though, Potter was surprised to find that they still had customers coming in, and they were even buying things. It wasn't business as usual by any means, but it was business. The majority of business for the first four to six months post-hurricane was doing service and remediation on people's bikes that were flooded. It was dirty work, that involved stripping each bike down to the frame, pulling off every single part, making sure there wasn't critical damage, cleaning it, greasing it, lubing it and reassembling it. "These people were coming in all the time," Potter says, "and I tried to ask as much as I could about how they were doing, because I wanted us all to keep in mind that if they had a flood-damaged bike, they probably had a badly flood-damaged home, too." With that in mind, Savitzky and Potter offered those customers deeply discounted labor rates, charging them about $100 for what would usually cost two to three times more than that. "We were trying to do our bit to make the hurt less. For a lot of people, getting their bike back was a part of getting their life back to normal." Many of them were displaced, living with friends or relatives while they awaited insurance or repairs, but simply wanted to ride their bikes among the ghosts of their flood-ravaged neighborhoods.
It was a delicate balancing act between being sympathetic to hard-hit customers, and not putting themselves out of business. Still, nobody was fired, even when it meant Potter and Savitzky involving their personal finances to make payroll. "It was the right thing to do and, ultimately, it's very hard to find people who are qualified and committed in this industry." They tightened up inventory management, too, using the POS system to examine historical trends and buy product only as it was needed. That meant trimming orders with manufacturers and distributors, and standing firm whenever they pushed back. Some longtime vendors allowed Planetary extra time to make payments, while others stood firm. "I don't think they quite understood how bad it was, because we were the only store in town that took on water like this," Potter says. "For most shops, this was just a weekend of being closed, and then waiting for their customers to get back to normal. For us, though, if you drove within a 3- or 4-mile radius of here, most everybody's belongings were piled on the curb. The devastation is something you can't really understand until you see it firsthand."
Forecast: Sunshine and Rainbows
Ten months since the floodwaters receded, the outlook is improving for Planetary Cycles. Business is nearly back to pre-flood levels, with a growing interest in higher-end mountain bikes replacing soft road sales. Even more encouraging is that one of their strongest categories is entry-level performance hybrids ($400-$500). "We'd generally sell 10-20 of those per week, and we went down to one or two after Harvey," Potter says. "The core recreational rider was just not buying bikes, because when you're focused on putting your house back together, buying bikes is just not on the agenda."The recovery isn't complete—it takes time to restore hundreds of thousands of dollars of lost business, and Potter estimates that a quarter of the houses surrounding the shop are still vacant—but for now it's on the right track, and due in no small part to their efforts to help out their customers in their time of need. "I'm hoping, if the trend continues as it has, that next year we'll be past it, and looking forward to an even better year."
SPECS
Planetary Cycles
Houston, Texas
Locations: One
Years in Business: 24
Square Feet: 9,000
Employees: 15
Average Bike Sale: $600
Gross Annual Revenue: Over $2M
Major Brands: Cannondale, Giant, Scott, Santa Cruz, Elektra, Cat Trike, Terra Trike, HP Velo Tecnic
Online: planetarycycles.com
Facebook / Instagram / Twitter
• Get Disaster Insurance. "Look into what it costs to have flood or hurricane or wildfire insurance, and know that it's probably worth it. Insurance is something you hope that you never ever have to use, but when you need it—boy, you're happy you've got it. Insurance would've paid to put this store back together, and would've paid for a period of time that we couldn't open the store (so I wouldn't have had to open while we were under construction). It wouldn't have covered the insane loss of business we experienced as a result of the area being devastated, but the insurance definitely would've helped reduce the financial burden." Related: Master of Disaster: Know What's Covered—And NOT Covered—By Your Insurance Policy Before Disaster Strikes
• Appreciate—And Reward—Your Staff. "My people stuck around through this, so I let them know how much I appreciated it, and rewarded them with a little extra as often as I could. It was the right thing to do and, in the end, they saved my ass. I couldn't have done it without them, that's for sure."
• Cut Back On Inventory. "You can't operate as though nothing's going on. While it'd be nice to have a showcase full of XTR components and the latest, greatest Garmin products and everything else under the sun, realistically I need to carry what makes sense for me to carry, and in quantities that I can sell. Managing inventory is something you have to do after a flood. My business philosophy maybe gave me a little bit of a head start here. Vendors are always really generous with terms, but I've always looked at it as debt. So I live well below my credit limits, because I don't need to carry six months worth of product in my store."
• Don't Be a Pushover. "Shops sometimes let their vendors bully them, but I don't let that happen. When vendors have tried to strong-arm me, I've simply told them, 'I don't want to do that, and if that's not good enough for you, you're more than welcome to take your business elsewhere.' I do it in a nice way, though; not threatening them. It's not my responsibility to keep my vendors in business; I've got to worry about what works for me first."
• Encourage More People to Ride Bikes. "Maybe that way we can curb global warming (laughs), and we'll have less of this in the future. We had almost six feet of rainfall in a couple of days. When you have that much rain, you're going to have flooding no matter what you do. So you can't blame the city for not managing the drainage, or the insurance companies for not making sure everyone was adequately covered. To some degree, I had to accept that as a reality in order to move on, and not be upset with everybody. We got unlucky, and every possible thing that could have gone wrong in this event, did, and you have to hope that it's a once-in-a-lifetime event. But our neighbors who've been flooded three times in a row? They believe otherwise."