Shop Profile: Growing Up
This family-owned Denver shop went big while keeping customers first
Words by Peter Koch
At first glance, Ron Kiefel, the president of Colorado's Wheat Ridge Cyclery, is practically a walking, talking cliché. The former pro is one of America's most legendary cyclists—with national titles, an Olympic medal and years of European racing under his belt—who now sits at the head of one of the nation's largest, most successful single-store bicycle retailers.
It's obvious, right? Former pro hangs up his bibs, and looks to his one love—cycling—for a second act as a shop owner, where he translates his passion (and celebrity) into a successful business. Except that, this time, it's the opposite way around.
It was Kiefel's dad, Eugene, a restless industrial-bearing salesman and complete industry outside, who first opened the shop in 1973, inadvertently setting his son on the path to cycling glory. And it was his keen entrepreneurial sense—always looking for opportunities to grow the shop—his outsider's hard-nosed decision-making, and immigrant's grit that set Wheat Ridge on a course to grow from a modest, 750-square-foot locals shop to the sprawling, 30,000-square-foot destination superstore that it is today. All Ron had to do was follow in his dad's slipstream.
Leading Off
Looking back, Kiefel could just as easily be renting tools to local construction contractors, or even slinging soft-serve at his very own Dairy Queen. Forty-five years ago, Eugene was considering a career change—a couple of near-accidents on his sales rounds had spooked him—when he happened upon a classified ad in The Denver Post: Bike Shop For Sale. He quickly set aside thoughts of becoming a tool rental impresario or Dairy Queen king, and bought the shop in the Denver suburb of Wheat Ridge for $4,800. "He chose the bike shop because he'd apprenticed in bicycles and motorcycles as a kid in Germany," Kiefel says. Another $6,000 stocked the shop with bikes from a local distributor, and Wheat Ridge Cyclery (WRC) was open for business.
From the beginning, Kiefel says, Eugene "ran the bike shop as a business, not as a fan of the sport." That meant unusually clear-eyed decision-making, negotiating with suppliers, seeking out deals, and making money on the back end, so he could offer better value to his customers. "That's how the bike shop became known in the community, as a place where you got great value."
On the front end, it meant putting customer service first and foremost. "The business is built on the foundation of my father's hard work," he says. "He's a great salesman who always knew how to talk to people," even if it meant following them to the parking lot now and again to generate a sale.
And it worked. Business grew steadily, despite the wider industry's post-bike boom slump. Ron and his younger sisters, Erlinda and Leona, learned the business firsthand, working alongside their dad answering the phone and sweeping the floors through the busy summer months.
After a year, Eugene expanded WRC into the neighboring storefront, doubling the shop's square footage. And he continued in that way, expanding the shop slowly but deliberately, buying up neighboring businesses—a restaurant, a cleaner's, a woodshop, an analytics lab—and even an old house, whenever they became available.
As the shop matured, so did the product it carried. From Motobecane and Peugeot, WRC evolved to carry Japanese brands like Nishiki and Fuji. When the modern juggernauts of Trek and Specialized started picking up steam, WRC added them to the line-up.
"My dad used to go to breakfast with [current Trek President] John Burke, who was then just the regional rep for Trek, and fill out monthly terms," Kiefel recalls. "So we grew along with those brands, and enjoyed great working relationships with them."
Throughout years of growth and change, Eugene kept his shop laser-focused on the customer. "The customer, and serving his needs, has always been the top priority for the business."
A Family Affair
While Eugene wasn't himself a cyclist, it wasn't long after buying WRC that his kids latched onto the sport. "The personal impact of the sport of cycling on our family has been huge," Ron says, though it's most obvious in his own story.
As a 13-year-old, Ron got a Nishiki International road bike that he used to explore the Front Range and beyond, eventually riding over some of the high mountain passes of the Rockies. He took up racing in 1976, was hooked after his first taste of competition (despite crashing 300 meters from the line) and, within two years, had won a bronze medal at the Junior World Championships. That led him to the U.S. national team, which led to three concurrent national championships—road, time trial and team time trial—in 1983, which led to an Olympic bronze in 1984.
"I don't think I would've found cycling if it wasn't for our family owning the shop."
The next year, he joined the pro ranks on the legendary Team 7-11, the first American team to become a powerhouse on the European racing scene. Over a decade-long career, Kiefel became the first American to win a Grand Tour stage at the 1985 Giro, and competed in seven Tours de France, before returning to the shop as a continental racer with Coors Light in 1992.
"I don't think I would've found cycling if it wasn't for our family owning the shop," he says. "Cycling wasn't that common back then, and finding the racing circuit wasn't easy to do."
Meanwhile, Ron's middle sibling, Erlinda, left the business to earn a chemical engineering degree. Even as she became a propulsion engineer at Lockheed-Martin, she pursued mountain biking to its highest levels, eventually competing in the 1990 and 1991 UCI Mountain Bike World Championships.
And Ron's youngest sister, Leona, worked in the shop alongside Eugene for years before eventually becoming a Trek sales rep. Later, she and her husband Gil McCormick—who would take over managerial responsibilities of WRC from 1993 to 2007, bridging the gap between Eugene and Ron Kiefel—bike toured extensively, including a two- week honeymoon trip through the Canadian Rockies. Today, all three of Eugene's kids are involved in cycling and are shareholders in the business.
Breaking Away
In the early 2000s, Wheat Ridge Cyclery was hitting a critical stage in its development. It was a hodgepodge of buildings—a salesroom, a separate service center, a separate warehouse and an old house they were using for additional storage—with an alley running down the middle, that added up to an impressive 20,000 square feet.
Still, the shop was bursting at the seams, and it was a nuisance to run bikes back and forth through the alley to and from the salesroom. They briefly considered moving the shop out of Wheat Ridge, and building elsewhere, until the City of Wheat Ridge "helped open our eyes to the possibility of blocking the alley, knocking down a couple of the existing structures and expanding right where we were." So they tore up the alley, unified the front sales section to the service center, tore down the old house and warehouse in back, and built a two-story warehouse to replace them.
The result is an incredible 30,000-square-foot, bi-level superstore that's uniquely positioned to attract customers from across the Denver metro area. "Eighty percent of our business comes from outside the community of Wheat Ridge," Kiefel says. Customers come to WRC for its selection—it carries more than 1,000 bikes in its inventory—its top-notch repair service, its experienced staff, its custom fitting program and, above all, for its customer service.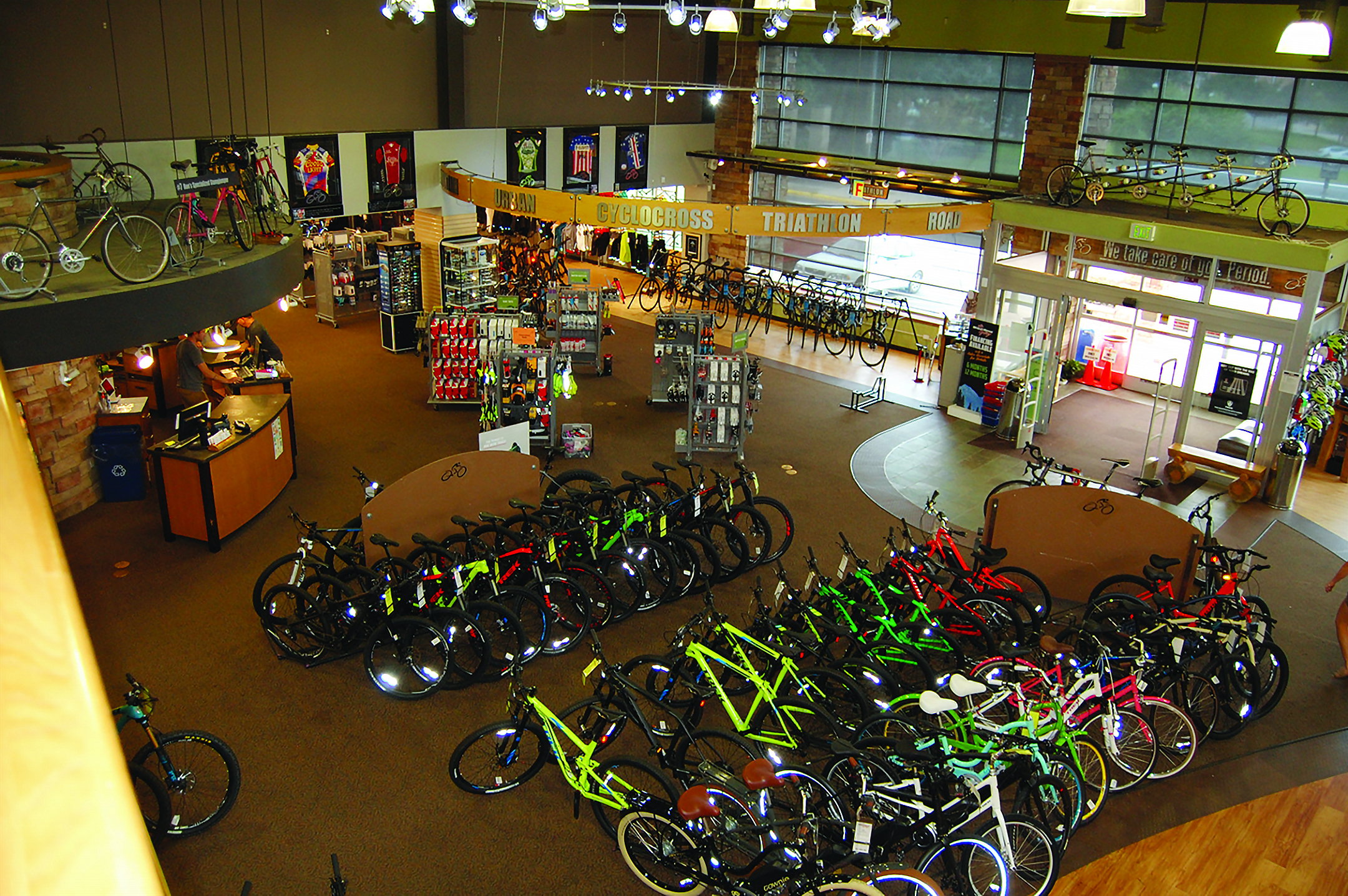 "Mountain bikers come to us because we have four incredible brands—Yeti, Santa Cruz, Trek and Specialized—that they can look at and test. We have incredible depth of inventory and a big demo fleet, so you can try out different things on the trail," Kiefel says.
On the road side, they sell Trek, Specialized, Cervélo and Seven. "We also have a great sales team that really understands the product, including several employees who've been here for 10 or 15 years. So we've got a great depth of knowledge, and our people have a lot of passion." All of those high-end brands bring in high-end sales, and the average unit price today is $1,800 or more.
In the service department, they've just opened a "Suspension Lab"—stocked with nitrogen chargers, seal kits and other sundry parts—so they can overhaul and service just about any suspension there is, rather then shipping complicated jobs off to DirtLabs in Boulder. "It's not all that complicated," Kiefel says, "but it's a focus that you have to learn how to do it and do it well."
It's just the latest expansion to the massive service area, which includes a four-stand service writer area in the showroom, a custom wheelbuilding area, an indoor bikewash, and 14 work stands with benches and tool boards in back where each mechanic has his own environment.
"We're not the cheapest service," Kiefel admits, "We charge for our service, but the guys really know their stuff. We also make sure the work is done right with a final check process, where every service job is quality checked by a second mechanic, and it's test ridden before being delivered to the customer."
That points out a key asset: all of the high-tech systems and technologies in the world won't help you if you don't have quality employees. At WRC, there are 35 full-time, year-round staff. To attract and retain good people, Kiefel says they offer good benefits—like 401Ks and health insurance—and try to be competitive on payroll, offering modest additional commissions to the sales team.
"But even more important," he says, "people want to know that their work is being recognized." To that end, they've defined the core values of the business, and let everyone on staff know that they're being measured against those core values. When you start doing that, he says, you can find the right people, and you tend to hire the right people for the right positions.
"We're not great at it yet, but we're getting better and better. We have great morale on our sales team, and our service department works really well together, too."
It helps having so many long-serving employees, from Ron to Gil McCormick to Service Manager Doug Bittle, who's a 30-year vet of WRC. Even Eugene still comes around from time to time to offer a helping hand and a word of advice. "He has a lot of good insights," Kiefel says. "He keeps things pretty simple, and likes to be sure the focus stays on the customer."
SPECS
Wheat Ridge Cyclery
Wheat Ridge, Colorado
Locations: 1
Square Feet: 30,000
Years in Business: 45
Employees: 35 F/T; 30 P/T (seasonal)
Average Bike Sale: $2,000
Major Brands: Specialized, Trek, Yeti, Santa Cruz, Salsa, Cervélo, Seven Cycles
Annual Gross Revenue: $6M-plus
On the Web: wheatridgecyclery.com
Get Social: Facebook | Instagram | Twitter | YouTube
Custom bike fits are conducted in mezzanine-level bays for peace and quiet and—yes—privacy.
One of WRC's biggest value propositions is, and has been for a long time, custom bike fitting. "We were really at the forefront of bike fitting, and we had a dedicated fit space as far back as the early 1990s," Kiefel says.
"We've been through a progression of bike fitting—from Andy Pruitt to Ben Serotta [WRC was the nation's top Serotta dealer in the early 2000s] and on up to Retül—and we understand its value." As such, they have three private fit bays located up in the mezzanine, away from the sales floor, where they offer a menu of fittings, ranging from a simple saddle pressure analysis on up to a 3-hour Retül fit, with 3D motion capture, for a custom Seven Cycles dream bike or a Trek Project One.
"We've consistently grown our expertise, and we bring that to our customer to make them more comfortable and confident in their riding."
This profile was first published in the Nov/Dec 2016 issue of Outspokin'. We touched base with Kiefel, who provided us with this update: "I'm stepping out of the GM role after 11 years of managing our day-to-day operations, and our longtime Director of Operations Steve Heal will be stepping into that role." Additionally, Wheat Ridge purchased a Beeline franchise that took to the streets of Denver/Boulder back in August. Beginning in Spring of 2019, they'll be adding bicycle pick-up and delivery, plus the option to purchase online and take mobile delivery. "Denver has grown quite a bit," Kiefel offers by way of explanation, "and it's harder for customers to get to our store. Now we're taking our business directly to them."